Veteran Appreciation Night at the Willmar Stingers - July 9th, 2011:
On July 9th, 2011 I had the honor of being able to present the Defender of Freedom Award to 9 veterans from my area. Special thank you to the Stingers for their support.

The United States Military Historical Collection (USMHC) strives to help preserve the heritage and legacy of our military Veterans. Their selfless service to our country is what makes America great.

It was a great honor to give special recognition to the following nine (9) veterans. Each of them are recognized not only for their service to our country in the Armed forces, but also continued service to Veterans and our community. Their stories of service are an inspiration to USMHC, and it is Veterans like these that motivate me to continue to highlight the service and sacrifice of our nation's heroes, the American Veterans.

I was pleased and honored to present them with the American Patriot Program Defender Of Freedom Award. The awards are sponsored by: TAPP, Central Lakes Co-op, Central Tire and Wheel, Central Minnesota Veteran's Historical Council, and United States Military Historical Collection.

Each of the honorees were also being presented with a fleece "Throw of Love" made by Donna Hogue. Hogue is a Gold Star wife who makes these throws to honor Veterans in memory of her husband, 1st Lt. Robert Malone who was killed in action in Vietnam.

Petty Officer Lourdez Schwab
US Navy - Lourdez enlisted in the Navy after her brother, Jesse, was seriously wounded in Iraq. She helped with his rehabilitation and helped other Spanish speaking families through their loved one's recovery. She found she wanted to give back and help others. So married, with a career and children, she decided to join the Naval Reserve in 2006. She was deployed to Kuwait in support of Operation Iraqi Freedom last year. Lourdez is currently in the Reserves, drilling with a reserve unit in Sioux Falls. She is very active in the community helping with Homefront Connection, the Police Commission, and numerous multi-cultural activities.
Chief Vicki Dew
US Navy - Vicki comes from a family of military tradition. Her father was a WWII Navy vet, and she decided to join the Navy in 1978. At that time, females in the military were not a normal occurrence. She served overseas and on ships as a Hospital Corpsman. During Desert Shield, she was deployed to the Persian Gulf in support of Operation Desert Storm. She retired as an E-7 Chief Petty Officer in 1999. She is one of three Dew sisters that all retired from the Navy as Chief Petty Officers. She is instrumental in coordinating the local Relay for Life events to benefit the American Cancer Society, and is a volunteer driver for the Meal on Wheels program, which delivers hot meals to elderly shut-in's.
Chief Les Kaenel
US Navy - Les joined the Navy during the Korean War in 1952. He found that he enjoyed Navy life and made it his career. He served overseas, aboard ship, and was assigned to the Pentagon, working for the Chiefs of Staff. He was an active part of the Cuban blockade in 1962 on the USS Colonial and is a Vietnam War veteran, having served aboard the USS Hector. After his retirement as a Chief Petty Officer, he has become very active in the VFW serving in local post, district and state positions of leadership. He is currently the Willmar VFW Commander.
Command Sergeant Major Doug Hanson
US Army - Doug entered the US Army National Guard in 1972 with the Willmar Infantry unit. During his Infantry career, he was awarded numerous awards, including the Expert Infantryman's Badge. Hanson rose through the ranks, serving as a Command Sergeant Major for the past 17 years in 4 different organizations throughout the state. He is soon to retire (21 July 2011) from the National Guard after 39 years of service. The care of his soldiers is a predominant part of his military life, and that same care and concern has carried over to veterans in our community as well. In his civilian life, Doug has managed K95/KDJS radio, staying an active part of the local community.
Specialist 5 Donnie Peterson
US Army - Donnie served in the US Army, with an Armor unit in Europe during the Cold War and Vietnam eras. After his discharge, he returned to the Atwater area, where he has been very active in their Legion Post. He puts countless hours of his time towards the care and maintenance of the Veteran graves in the Atwater area, and helps maintain the lists for the Memorial Day activities. He was key to helping with the Kandiyohi County Honor Wreath project in the Atwater area. Donnie has also been instrumental in helping WWII veterans from Atwater be a part of Honor Flight Southwest MN, getting vets in contact with the resources for the trips.
Sergeant Todd Oseles
US Army - Todd is one of the current Army recruiters in Willmar. He joined the U.S. Army in September 2000 as an AH-64D Apache Electrical, Armament, Avionics Technician. He spent 2 years in Korea with 3rd Squadron, 6th Cavalry and has been deployed to Iraq twice while assigned to 2-159th Attack Recon Battalion based out of southern Germany. Todd spent over 4 years in Germany. He is new to this area, having been in the Willmar office for just a few months, but he has taken part in the Willmar Fest activities and planning for the New London Waterdays festival. He looks forward to becoming an active part of the Willmar military and veteran community during his service here.
Sergeant Ken Schemel
US Army - Ken is a combat wounded Iraq War Veteran and is currently serving in the Army Reserves. He served two tours in Iraq, one in '04/'05 and again in '07/'08. He has become an active member of the VFW Post 1639, serving as an officer of that post. Ken is the co-founder of "Veterans on the Homefront", a monthly meeting of military veterans. The meetings allow vets to talk freely and openly about topics of their choosing. They meet at the VFW on the first Thursday of every month.
Corporal Harley Capps
US Marine Corps - Harley is a Willmar graduate. He joined the Marine Corps in 2003 to do his part in the wars our country faced. He served two back to back tours in Iraq as a part of a Precision Rifle Platoon. After his discharge, he returned to Willmar and has become an active member of the VFW. Along with Ken, Harley is a co-founder of the "Veterans on the Homefront" organization of Veterans helping other Veterans.
Senior Master Sergeant Jim Dokken
US Air Force - Jim started his military service in 1953, joining the Minnesota National Guard with Company C, 682nd Combat Engineers in Willmar. In 1955, he joined the US Air Force serving as a draftsman for 18 years. From 1965-1973 he served as the NCOIC of the only all Air Force space launch Burner 2 missile system at Vandenberg AFB, California . Jim served for four and one-half years at Ramstein AB, Germany with the Fourth Allied Tactical Air Force, a NATO Headquarters. He attended and graduated from the first class of the Air Force First Sergeant Academy in 1973. His is final duty station was at Finland Air Station, MN as the squadron First Sergeant. He is and Honor Graduate of the 8th Air Force (SAC) Senior NCO Academy. He retired in 1975 after 20 years as a Senior Master Sergeant/First Sergeant (E-8) . After his retirement, Dokken has become a major advocate for veterans' affairs and issues. He is a past commander of the American Legion Post 167, and past Commander of the Disabled American Veterans Chapter 34. He is a constant resource for many with details of what is happening with VA healthcare and programs. There are numerous individuals in the region that have been directed to VA Health by Jim. Besides his work with veterans, Dokken is also a Willmar City Councilman.

See photos below for the July 9th event

(Special thanks to Emily Schueler for the photos)

: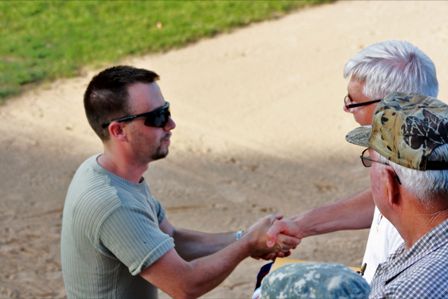 Prior to taking the field to receive their presentation bat, each recipient was given the throw and other special items by USMHC.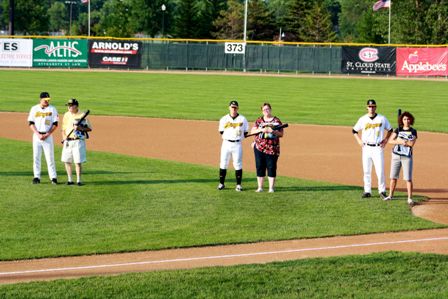 Recipients from left next to Stinger players: Chief Les Kaenel, Chief Vicki Dew, & Petty Officer Lourdez Schwab.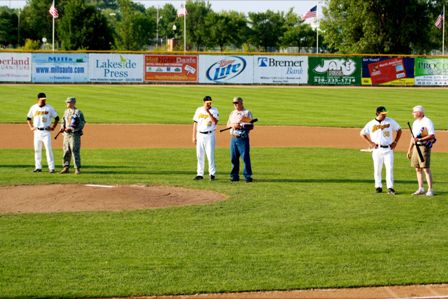 Recipients from left: Sergeant Todd Oseles, Specialist 5 Donnie Peterson, & Command Sergeant Major Doug Hanson.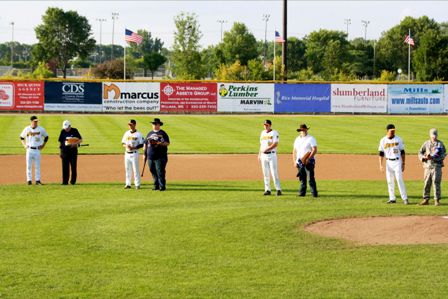 Recipients from left: Senior Master Sergeant Jim Dokken, Corporal Harley Capps, Sergeant Ken Schemel, & Sergeant Todd Oseles.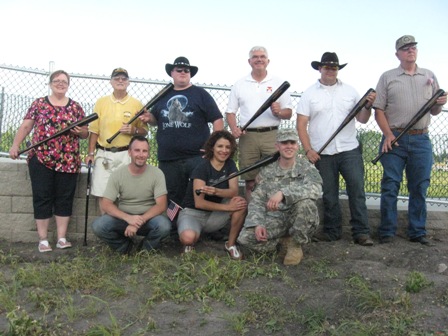 Most of the recipients with me after leaving the field. Back row, L-R: Vicki, Les, Harley, Doug, Ken, & Donnie. Front L-R: Jon (USMHC), Lourdez, & Todd. Jim was not able to be in the photo.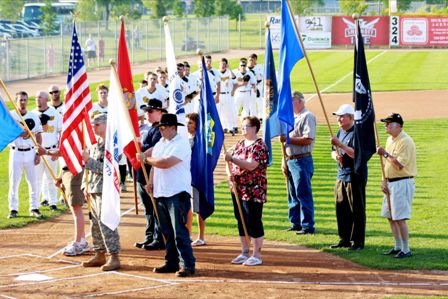 Each of the recipients carried one of the flags for the opening ceremony and National Anthem.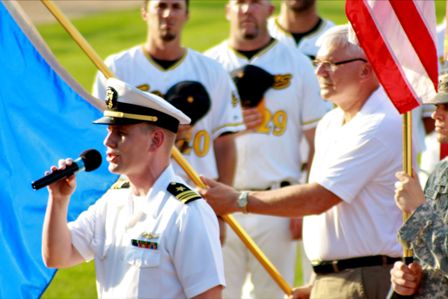 The National Anthem was presented by Lieutenant Commander Mitch Schueler. Schueler is a 1995 graduate of Willmar High School, and a 1999 graduate of the US Naval Academy in Annapolis. After serving in the Active Navy in Hawaii and on the east coast as a submarine officer, he moved back to Willmar and is currently a member of the Naval Reserve. He recently served in Japan to help with the Tsunami relief efforts there.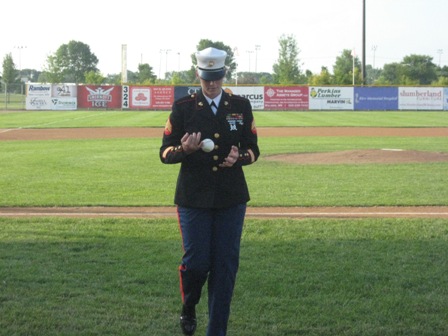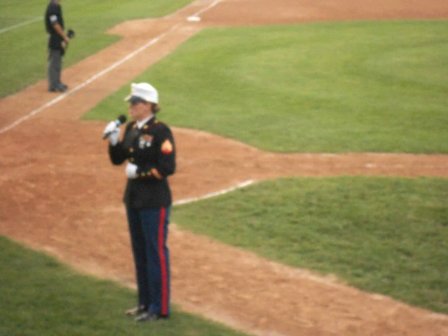 Sgt Melissa Crane, US Marine Corps veteran, threw out a Ceremonial First Pitch. Crane served in the Marine Corps from May 2003 thru May 2011. She was deployed and served in combat in Iraq in 2005/2006 and was awarded the Combat Action Ribbon. Later in the game she sang "God Bless America".


Further info on Willmar Stingers: