Bandido Charlie Company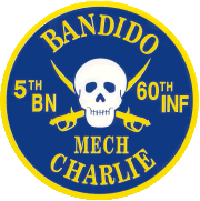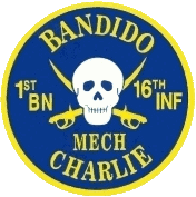 Bandido Charlie Association - For their official site, click here.

Over the years of compiling my collection, I have had the honor of meeting members of Bandido Charlie Company. One of those members, Ron Mackedanz, has become a very good friend and works closely with me on a number of various veteran related activities in central Minnesota. In June 2010, I was given the tremendous honor to have been made an associate member of the Bandido Charlie Association.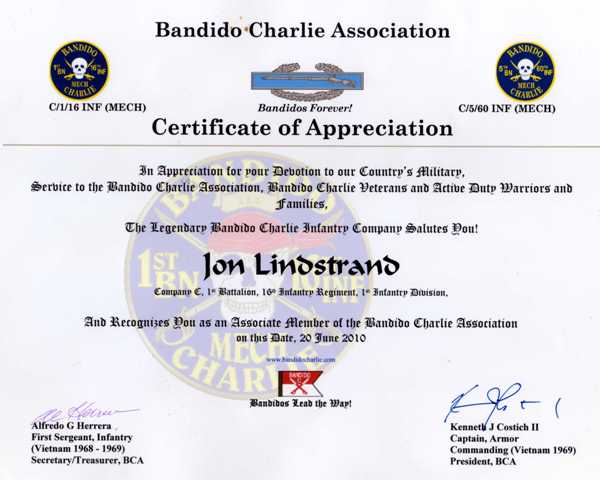 Bandido Charlie is one of the three longest, continuous active Infantry Companies in the US Army and the only one with an official nick-name recognized by the Dept of the Army, Bandido Charlie. Its official designation is Company C, 1st Battalion, 16th Infantry Regiment and has been on continuous active duty since 1861, serving in the Civil War, Indian Wars, Spanish-American War and all wars fought involving the United States up through today's conflicts with the exception of Korea. Then it, along with its parent organization, the 1st Infantry Division ("The Big Red One") valiantly served defending Europe's Fulda Gap during the extremely tense years of the occupation of Germany and the Cold War with the USSR. The 16th Regiment history also includes the honor of having been the very first troops to storm Omaha Beach during WWII's Normandy Invasion.

It is one of the most highly decorated companies in one of the most highly decorated regiments of the US Army.

It is that distinction that brings you this page. In 2011, after 42 years, 6 members of Bandido Charlie company were recognized for their service in Vietnam. Four members were awarded the Silver Star, and two more awarded the Bronze Star with "V" device for action on 12 August, 1969. My friend, Ron Mackedanz, was one of those awarded the Silver Star.

Official Recognition would take place at Fort Riley Kansas in March 2012, but Ron, like the others, held local reenactment presentations for family and friends to witness the presentation of the awards.

I had the honor of coordinating and planning the ceremony held in honor of Ron at the War Memorial Auditorium in Willmar, MN as a part of my Veteran's Day event on 12 November, 2011. The video of the ceremony can be seen below.



On 9 March, 2012 four of the recipients were on hand at Fort Riley Kansas for the formal presentation of their awards in the presence of their "Brothers in Arms" from a newer generation. I had the honor and opportunity to attend this event. A video can be seen below.


Congratulations to those recipients, and thank you to all the Bandidos for their service, past and present.