2015 Event Speaker:
Commander Mitch Schueler - Executive Officer of Undersea Warfare Detachment AF: Minneapolis MN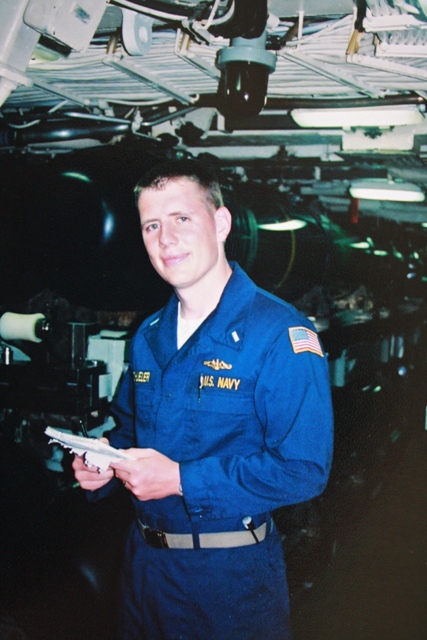 Commander Mitch Schueler (While on USS Ohio)
United States Naval Reserve
CDR Mitch Schueler was born in Willmar in 1977 to Karen and Sherman Schueler (Naval and Vietnam Veteran). He grew up on the family farm south of Willmar near Svea. At an early age he knew he wanted to join the military. In 1995 he graduated from Willmar Senior High School and was appointed to the United States Naval Academy. He left for Plebe summer in June of that year. CDR Schueler graduated from the Naval Academy in May of 1999 with a Bachelor's degree in Political Science and a commission in the US Navy as an Ensign.

He was assigned as a submarine officer and began training in the Naval Nuclear Propulsion program in Charleston, SC. After graduating from "nuke school" in October, 2000 and "sub school" in March, 2001 CDR Schueler reported aboard the USS Ohio (SSBN 726) and served aboard her until June of 2004 completing 3 deterrent patrols, and a nuclear refueling overhaul at Puget Sound Naval Shipyard.

CDR Schueler then rotated to shore duty in sunny Pearl Harbor where he served on the Pacific Submarine Force staff. In August of 2006, CDR Schueler was assigned to his second submarine the USS North Carolina. He served aboard the North Carolina until April of 2008 completing her maiden voyage and initial sea trials.

In April of 2008, CDR Schueler transitioned from active to reserve service and joined the Commander Naval Forces Japan headquarters unit drilling in Minneapolis, MN. While with that unit CDR Schueler completed multiple training periods in Japan and deployed to Japan as part of Operation Tomodachi after the earthquake and tsunamis of 2011.

In 2012, CDR Schueler returned to his submarine roots joining the Submarine Force Reserve Component where he currently serves as the Executive Officer of Undersea Warfare Detachment AF drilling in MPLS Minnesota.