2009 Event Speaker:
Major General (Ret.) Robert Pollmann, Commander, 88th RRC (Army Reserves), Fort Snelling, MN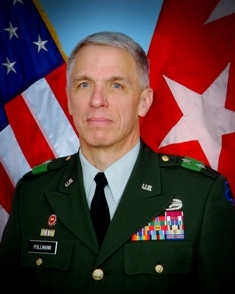 Major General (Retired) Robert Pollmann
United States Army

Major General Pollmann is a native of Minneapolis, Minnesota. He entered military service on January 16, 1970, as a member of the 385th Engineer Group, Fort Snelling, Minnesota. After completion of basic training and advanced training as a helicopter mechanic, he was assigned to the 385th Engineer Group Aviation Section, as a helicopter crew chief. Upon completion of the Officer Pre-Commission course and based on his civilian education, he was awarded a direct commission in 1972 with the Corps of Engineers.

In the course of his military career, Major General Pollmann has commanded military units at all levels. His first assignment was to the 652d Engineer Company (Float Bridge) in Ellsworth, Wisconsin, as a Bridge Platoon Leader. Later, he assumed command of Company A, 367th Engineer Battalion, Brainerd, Minnesota. He then commanded the 367th Engineer Battalion (Combat)(Corps), St. Cloud, Minnesota. He was deployed to Guatemala as part of Task Force Timberwolf where he served as rotation commander of the Joint Army Engineer, Seabee and Red Horse Task Force. He next served as Commander of the 8802d Headquarters Brigade and the 644th Area Support Group at Fort Snelling, Minnesota.

During his combat assignment in 2004, he served in a dual-hatted position as the C7 (Engineer) on the staff of the Commander - Multi-National Corps-Iraq and as Commander, 420th Engineer Brigade with direct command of over 4,300 Joint Forces, during a year-long deployment across Iraq in support of Operation Iraqi Freedom.

Major General Pollmann's previous primary staff assignments include serving as the S2, S3, S4 and Executive Officer, 367th Engineer Battalion (Combat)(Wheeled) and Executive Officer, 5th Brigade, 85th Training Division and as the G3, 88th Regional Readiness Command.

His military education includes graduation from the Engineer Officer Basic and Advanced Courses, Command and General Staff College and the Army War College. His civilian education includes a bachelor's degree in Aeronautical Engineering, University of Minnesota, and he has completed extensive postgraduate course work in marketing, business and the German language.

In his last assignment he was the Commanding General of the U.S. Army 88th Regional Readiness Command on July 10, 2005. Before that, he served as Commander, 420th Engineer Brigade, 90th Regional Readiness Command.

Major General Robert A. Pollmann retired in August 2008 after over 37 years service in the Army.

He has been awarded the Army Distinguished Service Medal; Legion of Merit; Bronze Star, Meritorious Service Medal with three Oak Leaf Clusters; Army Commendation Medal, Army Achievement Medal with one Oak Leaf Cluster; Army Reserve Components Achievement Medal with one silver Oak Leaf Cluster and one bronze Oak Leaf Cluster; National Defense Service Medal with two stars; Iraq Campaign Medal with two stars; Global War on Terrorism Service Medal; Humanitarian Service Medal; Armed Forces Reserve Medal with silver hourglass and "M" device; Army Service Ribbon; Army Overseas Ribbon; Reserve Components Overseas Training Ribbon with "2"; Joint Meritorious Unit Award and the Combat Action Badge. He is also the holder of the Silver Order of the de Fleury Medal awarded by the Army Engineer Association.

In his civilian career, Major General Pollmann is the President and Owner of MicroPure Filtration, Inc., which specializes in the application of engineered filtration systems for the Food and Beverage Industry throughout North America with key customers in Europe and Western Asia. He is a licensed commercial pilot and flight instructor with extensive experience flying powered aircraft and gliders.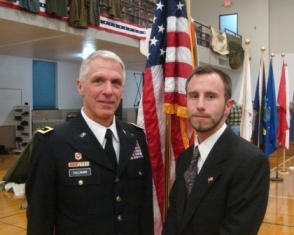 Major General Pollmann and Jon Lindstrand at the 2009 event.