Silver Star Presentation - November 12th:
On November 12th I had the honor of being able to host the Silver Star presentation for Ron Mackedanz, Vietnam Veteran, for his service on August 12, 1969. This was a reenactment of the formal military service that will be held at Fort Riley Kansas at a later date. The presentation was held at the Willmar Auditorium during the Veterans Day Observance.

Ron served as a member of Bandido Charlie Company, 1/16th Infantry Regiment (Mech), 1st Infantry Division in Vietnam. On 12 August 1969, his company was engaged in a heavy firefight near An Loc. 42 years after the fight, Ron and 3 other members were recognized with the Silver Star for Valor, and 2 others with the Bronze Star with "V" device for Valor.

Mackedanz has become a very active part of the Veteran's Day Observance, and a good friend. When this award was announced, he hoped to have something local that he could share with his family and friends in the area. We were able to host the event as a part of the Veteran's Day Observance in Willmar in front of over 400 of his friends and relatives.

See photos below for the November 12th event: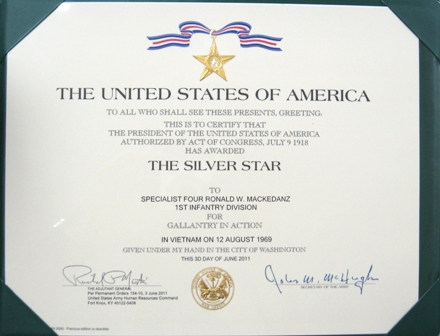 The Citation for the Silver Star.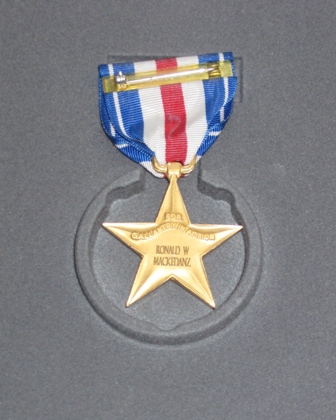 Ron's Silver Star.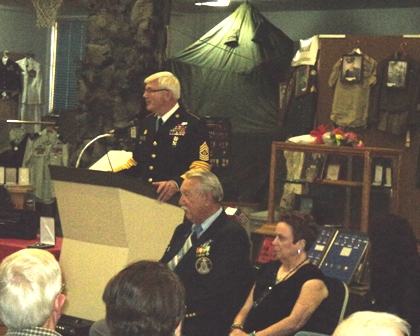 Command Sergeant Major (ret.) Doug Hanson explaining to the crowd the day's significance.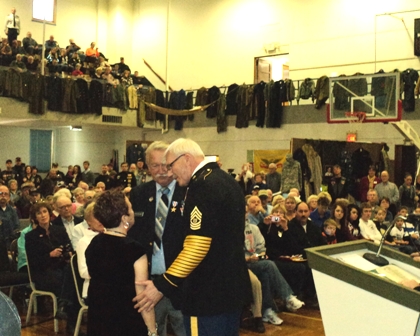 Ron and wife, Janet, with CSM Hanson after being pinned.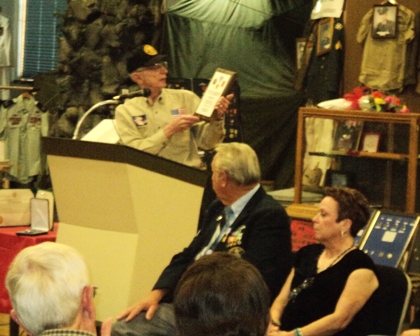 Jeff Seeber of the Minnesota Platoon, Military Salute Project presenting fellow Vietnam Veteran Ron Mackedanz with a special plaque made to honor his day.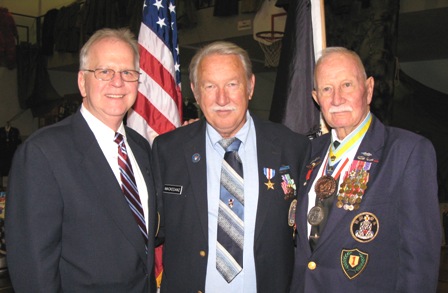 Mackedanz (center) with two other members of the regiment who attended this event.