2013 Event Speaker:
Major General Gerald Lang, Deputy Commanding General - Army National Guard, Army Materiel Command :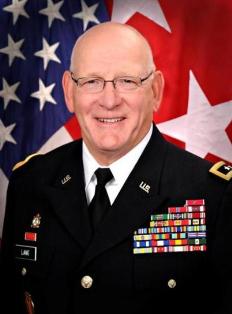 Major General Gerald E. Lang
Assistant Deputy Commanding General for the U.S. Army Materiel Command (AMC)
Major General Gerald Lang is the Assistant Deputy Commanding General for the U.S. Army Materiel Command (AMC) at its headquarters at the Redstone Army Arsenal, Huntsville, AL. He is the principle advisor to the Commanding General and Deputy Commanding General at AMC on all matters impacting the Army National Guard and acts as the Liaison to the Chief - NGB and Director - Army National Guard for all AMC issues that impact the Guard. MG Lang coordinates support and provides guidance to the Army National Guard logistics units/assets related to AMC's worldwide mission. He represents the 365,000 soldiers of the Army National Guard on the AMC Command Staff for mobilization, equipment, training, deployment and policy issues for the National Guard.

A 1970 graduate of Milaca High School, he joined the Army in 1971 and completed basic training at Fort Dix, NJ, and AIT at Aberdeen Proving Grounds, MD. He has earned a BA Degree in Business Administration and Masters Degree in Strategic Management.

His military education includes Ordnance Officer's Basic Course, Ordnance Officer's Advance Course, Infantry Officer's Advance Course, US Army Supply Management Course, Logistics Management College, Strategic Leadership Course, Multi-Functional Logistics Pre-Command Course, Dual Hat Title 10 Commander's Course, US Army Command and General Staff College, Joint Coalition Force Land Component Commander's Course and is a graduate of the US Army War College.

Major General Lang attended OCS and was commissioned a 2nd Lieutenant in 1976 and served as a platoon leader and company XO in the 747th Maintenance BN at Alexandria, MN, Princeton, MN, Camp Ripley, MN and Co. F 2nd BN School Brigade, Aberdeen Proving Grounds, MD. General Lang has commanded at the company, battalion and brigade level. General Lang's company command experience was with Co. F, 747th Maintenance BN. He also commanded the 434th Maintenance BN and the 434th Main Support BN. His BN command was highlighted by the deployment of over 300 battalion soldiers during a six-month period for Fuertes Caminos (Operation Timberwolf), a UN humanitarian mission to Guatemala. His last command assignment was at the brigade level commanding the 34th Division Support Command (DISCOM) for the 34th Infantry Division. His other assignments include: Battalion S3, Tank-Automotive Officer, Materiel Officer, Forward Area Support Coordinating Officer (FASCO), Assistant Division G-4, 34th Infantry Division G-4, MORE Team Chief and Chief Maintenance Division STARC.

In 2003/04, General Lang deployed overseas to Bosnia/Herzegovina where he served as the Deputy Commander for Multi-National Brigade (North), a NATO Stabilization Force (SFOR) mission for Operation Joint Forge. His first position as a General Officer, General Lang was assigned as the Deputy Commanding General - 34th Infantry (Red Bull) Division in September of 2005. The 34th Infantry Division consists of approximately 9,600 soldiers from Minnesota, and has training readiness oversight for an additional 12,000 soldiers in Iowa, North Dakota and Idaho. In 2009 General Lang once again deployed with the 34th Infantry Division to Iraq where the 34th Infantry Division assumed command and control of Multi-National Division-South in support of Operation Iraqi Freedom. The 34th Infantry Division was the HQs element and provided command and control of all combat operations and missions for approximately 19,000 US and multi-national soldiers for nine of Iraq's eighteen provinces covering the southern half of Iraq from Baghdad to Kuwait and Saudi Arabia to the Iranian border. In 2010, he was assigned as the Assistant Adjutant General-Army for the Army National Guard of MN prior to his current position with AMC.

Some of Major General Lang's military decorations include: the Legion of Merit with one Oak Leaf Cluster, Bronze Star Medal, Meritorious Service Medal with four Oak Leaf Clusters, Army Commendation Medal with four Oak Leaf Clusters, Global War on Terrorism Medal, Over Seas Ribbon with two stars, Iraq Campaign medal, NATO Non-Article 5 Medal, NATO Expeditionary Medal, Army Achievement Medal, Armed Forces Reserve Medal, Army Service Ribbon, National Defense Service Medal, Minnesota Medal for Merit, MN Commendation Medal with one Star, MN State Active Duty Ribbon with two Stars, MN Distinguished Recruiting Ribbon, MN Service Ribbon with thirty year device and the Iowa Medal for Merit.

Major General Lang is also the Vice-President for Knife River Inc - Central MN and General Manager of the Concrete Products Division for Knife River, one of Minnesota's largest ready-mix concrete and asphalt paving corporations and has plants throughout MN. Gerald and his wife Ingrid live in Sauk Rapids, MN and have two daughters, Linnea and Erika.