Event Schedule
2011 Event Speaker:
Captain Andrea Bond, US Army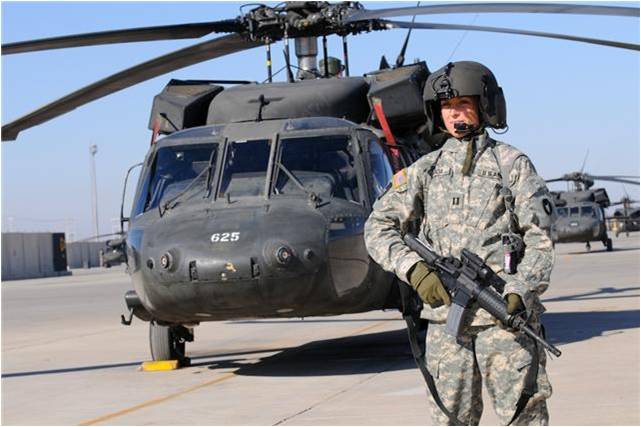 Photo by Eric Bowen
Captain Andrea Bond
Minnesota Army National Guard
CPT Andrea Bond entered military service February 12, 1996. After completing basic training and Advanced Individual Training, CPT Bond was assigned to Charlie Company, 682nd Engineer Battalion in Redwood Falls, MN. As a Specialist, CPT Bond transferred to 2-147th AHB and went to Officer Candidate School at Camp Ripley, MN.

She was commissioned an Air Defense Artillery 2nd Lieutenant on August 18th, 2002. She was then assigned to HHC 34th Combat Aviation Brigade as an assistant Liaison officer. CPT Bond completed her college in 2004 attaining a Bachelor of Science in Law Enforcement and a Bachelor of Science in Aviation, Professional Flight both from Minnesota State University, Mankato. CPT Bond branch transferred to Aviation in 2003 and completed Initial Entry Rotary Wing School in 2004 as an Honor Graduate.

She is qualified and rated to fly the UH-60 Blackhawk Helicopter. She returned to HHC 2-147th AHB as the Executive Officer. Following an assignment as an Assistant S3 officer and a command position for Bravo Company, (Det) 834th Aviation Support Battalion, CPT Bond was reassigned as the S1/Administration Officer and Public Affairs Officer for 2-147th Assault Helicopter Battalion for deployment to Iraq in support of Operation Iraqi Freedom 07-09. In January of 2009, CPT Bond took command of HHC 2-147th Assault Helicopter Battalion. She relinquished command of the Headquarters Company in September of 2010.

She is currently assigned to HHC 34th Combat Aviation Brigade as a Public Affairs Officer. CPT Bond currently works full time for Beyond the Yellow Ribbon in Cottage Grove as the Community Outreach OIC. She is married to First Lieutenant Brad Bond and resides in Elk River with daughter Cadynce (1 year) and stepchildren Jordan (15 years) and Emily (12 years).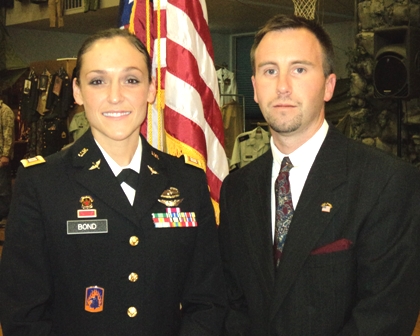 Captain Bond and Jon Lindstrand in 2011.